Here are a few of the photos taken at the 2010 Sun Cat Nationals. There are many more to come, but these are some of my favorites. Update! Charlie posted a photo album here.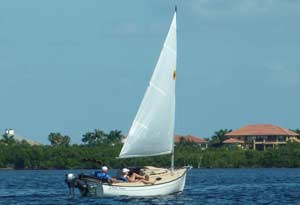 I think this photo of Indy Anna really captures the essence of Sun Cat competition. Jib trimmer sprawled over the coaming, engine dragging along in the water, and having a great time!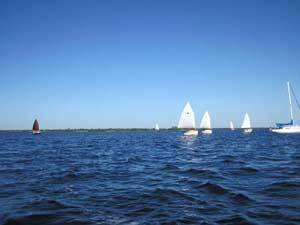 Here is a shot of the Sun Cat Class gathering around the committee boat prior to the start of racing.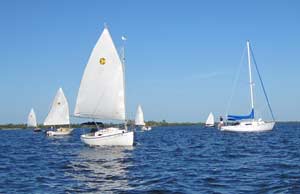 In keeping with my admonition to avoid scratching any boats, the fleet kept some distance apart during the intense jockeying for position along the starting line during the countdown sequence.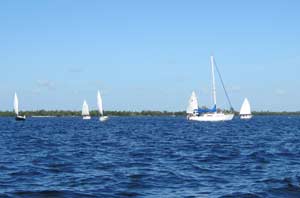 I sailed out to the edge of the racing area upwind of the line to get this picture back at the fleet prior to starting.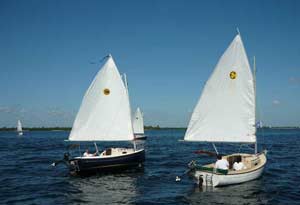 I got underneath Catnip at the start of the race and had to politely request room as the leeward boat. OK, so I just yelled, "Get out of my way!" at them because it was funny at the time.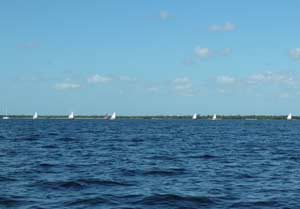 Sonja took this picture of the entire fleet of 7 Sun Cats racing in the Nationals. Had to get out a ways to catch us all in one frame!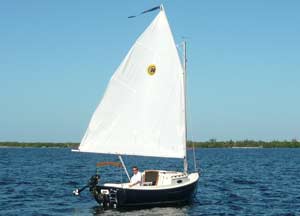 Hans got a great shot of my boat on a reach past the race committee boat!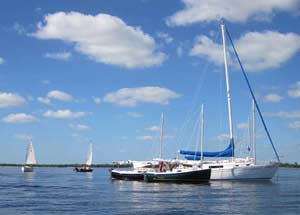 This shot of our after-race raft-up around the committee boat shows the problem facing the boats finishing later, as the wind continued to die until the harbor was a glassy slick. You try to get a Sun Cat to go against a current in this much wind!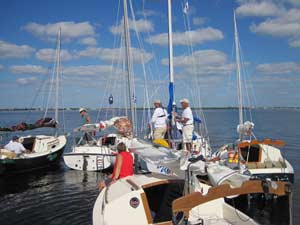 We had a nice lunch aboard Whimsy and the various boats rafted off as they finished, or tried to finish anyway. After a while it became apparent that the wind was not going to come back in time for us to do any more races, and was not even going to propel our last two competitors over the finish line. Maybe next year we'll have better wind!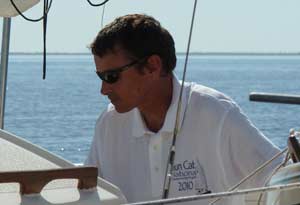 Contemplating the life-changing magnitude of my victory in the Sun Cat Nationals after the race.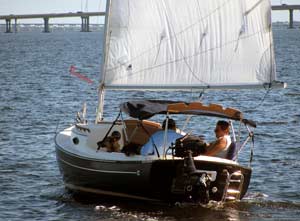 Several of our competitors begged off for various reasons on day two of the Sun Cat Nationals, and we wound up being the only Sun Cat on the water! We brought along Libby the Junkyard Dog and Luke the Cowdog, who always enjoy boating with us. Charlie and Isy came out in their Horizon Cat and the crew of Sun Cat Sandpiper brought their Seaward 32 out to meet us. They were sailing with the jib furled as an honorary catboat. This picture was taken from Whimsy.