Why The Sun Cat Nationals?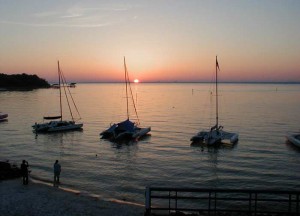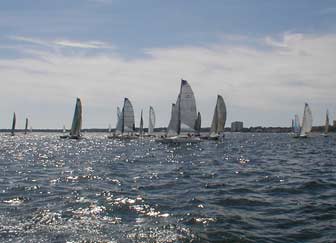 In 2004, I was very excited to be invited to participate aboard a Corsair F-24 in the Corsair Trimaran National Championships in Pensacola, FL. The event was everything I had hoped for and more. A bunch of Corsair sailors took over the whole end of a hotel and anchored our boats right off the beach outside.
We had a couple of great days of racing on Pensacola Bay. The Pensacola Yacht Club was a genial host organization, there were some serious trimaran racers on hand, and some very interesting trimaran sailors who had come long distances for this event. There was a pretty impressive group of boats at the starting line.
There were several buoy races and a long race that took us all around the harbor and out a short distance into the Gulf. Surfing back in on those Gulf waves was one of the best sails of my life! The only thing that I never understood was why the regatta was called the "Nationals."
It seemed like just another regatta to me. There was no elimination process, no series of races to winnow down the competition across the country, culminating in the best of the best in the nation meeting in Pensacola. It was just pretty much anyone who showed up with a trimaran, and it was the "Nationals" for the same reason Elvis was the "King": because everyone said so.
Skipping ahead to 2010, there was a learned discussion on the Trailer Sailor Catboat Forum about how to get the best racing performance out of a Com-Pac Sun Cat. Sailors always want to optimize performance, no matter how slow or fast the boats, but the whole discussion struck me as kind of funny. The reason I sold the Corsair F-27 trimaran and bought a Com-Pac Sun Cat was not because sailing speed is my number one priority!
Since a couple of other former Corsair trimaran owners participate on that forum, I decided it would be funny to mock the whole idea of Sun Cat racing and the Corsair Trimaran "Nationals" at the same time by making up the Sun Cat National Championship Regatta. About a month later, the subject of racing Sun Cats on Charlotte Harbor was brought up on the Com-Pac Yacht Owners Association Sun Cat Forum, and when I mentioned my little joke about having the Sun Cat Nationals here, the idea was well-received by a Sun Cat owner on the east coast of Florida.
I do not need much encouragement to carry a joke too far, and I decided to host the first Sun Cat National Championship Regatta on the weekend of November 13-14, 2010. With the scheduling of the second Sun Cat National Championship Regatta for November 5-6, 2011, it looks like it's becoming an annual event.
We called it the Sun Cat Nationals because no one has taken that name yet and no one can really stop us, but that is where the similarity to the Corsair event will end. This will not be a serious sailing race, except in the sense that when two or more sailboats are within sight of each other on the water, it's always a race!
I will be the Head Catboat Jib Trimmer In Charge at this regatta, unless someone else seems to want the job. Catboat jib trimmers are notoriously lazy, so don't expect too much official action out of me! We will race around any course that seems easy to me for the conditions at hand, unless senior Sun Cat skipper Joe has an idea that seems even easier. We will have one race on Saturday, or more if we get around to them, and if conditions permit we will have a long adventure race on Sunday, including passage under two low bridges. Masts down, everyone!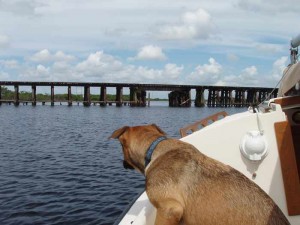 The entrance fee for this race is $20 per participant over the age of 12, and the primary race sponsor, Tropical Boating, will provide ample trailer parking, campsites for those who want them, and a BBQ steak dinner with cocktails and all the trimmings for all participants on Saturday night.