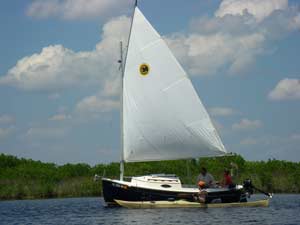 For the benefit of catboat jib trimmers who don't want to go to all the trouble of sailing a Sun Cat down Shell Creek to Punta Gorda, we decided to do the trip and take some pictures and video. I strapped my video camera tripod to the boom gallows to capture the fun, and took some pictures along the way. We left around 1 pm from my neighbor's dock and set sail toward our first obstacle: the US 17 bridges over the creek. If you want to follow along on NOAA charts and aerial photos click here, then zoom in east of Punta Gorda where US 17 turns north.
We had to sail around two corners to see the bridge. Our rules say you can use your engine when within sight of a bridge, but with a favorable wind it was quicker and more fun to sail right up to it before firing up the Tohatsu to lower the sail and mast.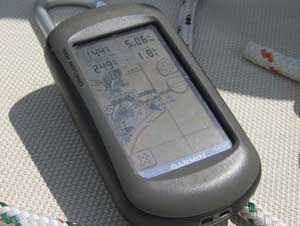 Once past the US 17 bridge, we took the branch of the creek that runs along Riverside Drive, and were almost becalmed for a bit due to some trees as we wound our way down. I got a picture of our Garmin Oregon GPS showing our position: where no sailboat belongs, and our speed: a stately 1.8 knots, and most of that in the wrong direction, as that particular part of the creek goes southeast.
We sailed past the homes on Riverside Drive, something the residents do not see very often, and as the creek turned north toward the railroad bridge we again fired up the engine to drop sail and mast. I had to break the "within sight of a bridge" rule a little bit, as we were just around the corner when prudence dictated that we start the engine. We did not want to ram a dock, and could not point any higher.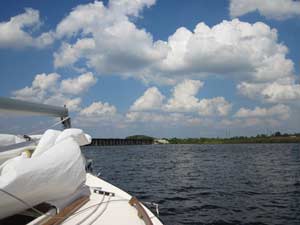 As we approached the railroad bridge over Shell Creek, I spotted some kayakers emerging from a small bay just east of the tracks. Click the image to enlarge and you can see where I have zoomed in on them in the picture. That little bay is actually a shortcut, if you are in a small enough boat to navigate the narrow entrance and exit and the shallow parts in between.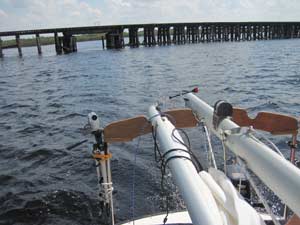 Once clear of the railroad bridge, we continued to motor upwind toward the bend in the creek, taking full advantage of the "bridge in sight rule" to avoid short tacking in the narrow creek. It would have been possible to tack through that section of the creek with the outgoing tide, as there is enough water side to side. The creek is actually about 20 feet deep at the bridge pilings, and is a great place to fish. Snook are the main target of most fishermen at this spot, but there are also redfish, sheepshead, snapper, and the ubiquitous catfish. We passed the group of kayakers as we were motoring upwind and raising the mast, then set sail just before the power lines.
In the picture you can see my video camera jury rigging: a tripod attached to the boom gallows with bungee cords. I was a bit worried about the camera sticking up above the gallows, but was careful to use the lazy jacks as a topping lift to keep the boom well clear when raising and lowering mast and sail. Unfortunately, most of my video clips of those operations ended up being only 1 second or less. I am not sure whether the battery connection was loose or I was double-clicking the record button or what happened, but I ended up with 4 worthless clips. Oh well. At least I didn't smack my camera overboard with the boom, and some of the video came out OK.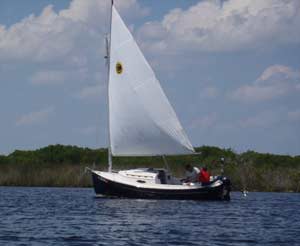 The wind died out for a bit while we were sailing in this section, and the trees on the upwind side of the creek did not help, so we were sailing pretty slow. I saw the kayakers coming up behind us, and they were taking pictures of us as I took pictures of them. I did not want to try to explain the Sun Cat Nationals to them, so I just hollered over to email me through tropicalboating.com so that we could exchange pictures. It is sometimes hard to get shots of your own boat, and I was happy that they did contact me!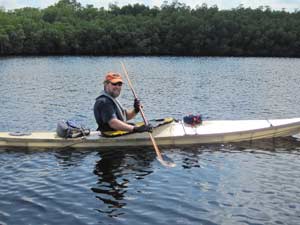 They came close enough to chat, and we got a couple of illustrations of the fact that it is a small boating world. The guy paddling the frame and skin kayak with a traditional paddle, Don, turned out to know a cyberfriend of mine named Keith from the Hobie Adventure Island forum. I told him we had a pair of Adventure Islands, and he said he had a friend who took his on expeditions from Flamingo to Chokoloskee, the most remote part of Florida. I knew it had to be Keith!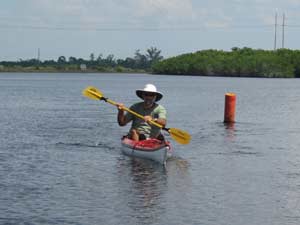 The main shutterbug was Alberto, who made a photo album showing our encounter. He is a fellow multihull sailor from Pine Island who recently got to race aboard a Swan in the 2010 Fastnet race. Some great pictures of the race in his other picasaweb albums!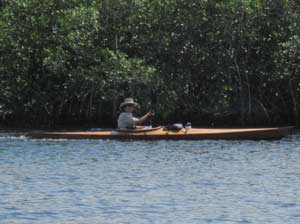 Also taking pictures was a lady named Brenda paddling a nice wooden kayak. It was not until this morning that I remembered who she had to be. Years ago, I took my Klepper foldable kayak on a moonlight paddle organized by Estero River Outfitters. My friend Al borrowed one of my kayaks and came along. On our way back up the river, our moonlight paddle became a monsoon paddle, as we encountered one of the worst thunderstorms I have ever seen, with lightning coming down all around us and torrential rain. We took shelter in a private boathouse along with a woman named Brenda who was paddling a nice wooden kayak. I emailed her this morning when she sent me the pictures she took and sure enough, same Brenda, but in a different wooden kayak these days! Small world!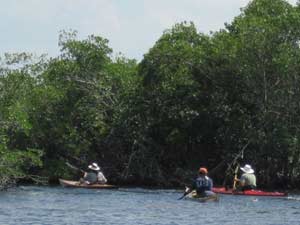 The trio of kayakers turned off down a small, shallow branch of Shell Creek, where even Sun Cats dare not go. Approaching the confluence with the Peace River, we had a choice of firing up the engine to make our way upwind through a small pass on the north side, or just turning off the wind down a branch of the creek/river that is only 2-3 feet deep. It is times like those that I really love the flat metal centerboard and rudder on the Sun Cat – not so great from a hydrodynamics point of view, but really hard to beat when it comes to dragging parts of your undercarriage over the bottom!
We took the shallow southern route, and I spotted the kayakers emerging from the small branch they took a little further down. If you turn the volume up, you can hear me comment on hitting the bottom with our centerboard and seeing the kayaks on the video I made. I put the video camera away shortly afterward as we joined the main channel. Too many powerboat wakes, and I was afraid that if we took one wrong the camera might get doused with spray.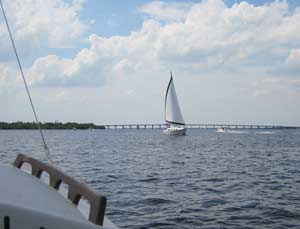 We made our way down to the deeper water along the shoreline, then cut over to join the main Peace River channel. The channel was indeed a bit crowded, and among the crowd was another sailboat, a bit of a surprise to me this far up the river. We passed in opposite directions, then the other boat turned to follow us, but was making no progress in the chase as we had lots of wind and were moving along pretty well.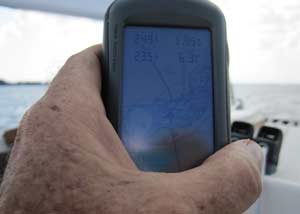 After we sailed under the Interstate 75 bridge, the wind was no longer so broken up by the nearby land and we started to get some pretty nice puffs, probably in the high teens. I caught a picture of our GPS saying we were making 6.3 knots, blazingly fast for a Sun Cat, even if we were being helped along by a knot or so of current.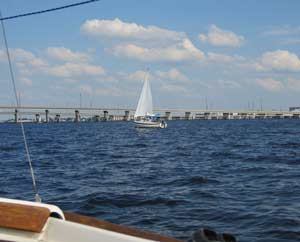 We were on a pace to reach our destination, the boat ramp and Crab House restaurant at Punta Gorda's Laishley Park, shortly after 3pm, just over two hours after departing our neighbor's dock. That seemed awfully early to eat dinner, so we killed a little time sailing around in the upper harbor. I decided to sail over toward the Port Charlotte shoreline to stay out of the chop in the open harbor. Just west of the US 41 bridges, we saw a Com-Pac 23 coming up the harbor under jib. I had to at least try to give chase and turned around to intercept them, but they were too fast and got by us.
We turned back up toward Grassy Point and were having a great time sailing in a good breeze, making the boat creak and hum and slap aside the little chop. I should have brought the video camera back out for this part, but did not think of it. There were only a couple of other sailboats out enjoying the evening breeze, and a few powerboats heading for home, and then I noticed one powerboat that was just sitting there.
It was a smallish flats boat with a poling tower and two people were standing on the bow as it drifted in the open harbor near marker 3. I know a "FISH ON!" situation when I see one, and watched for a few minutes to see what would happen. One of the people kept returning to the center console to manuever the boat, and it became apparent that they had a big fish. I figured it was probably a local tarpon fishing guide hooked into a fish that might put on a really good show, and turned in that direction.
We took a pretty wide lap around the fishing boat, giving him room to fight his fish, but I could not resist approaching a bit closer as we came back by. I could see the spare rods with balloon rigs and large live bait, meaning they were out for big tarpon. I gave him a thumbs up as he told us he had a 120 to 140 lb tarpon on his line! There are some big fish in Charlotte Harbor, but that is a real monster if he was right! I'll ask around and see if I can find out what happened.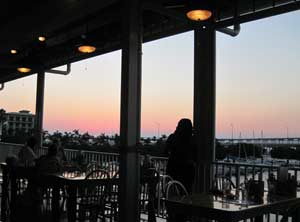 We were starting to get tired and running low on daylight, so headed on up the harbor to Laishley Park, where the truck and trailer were waiting. Going under low bridges is nice, but having the boat secured for the trip home a few minutes after arriving back at the ramp is priceless! We made our way upstairs at the Laishley Crab House restaurant and got out to the porch overlooking the harbor in time to catch the sunset. I took the picture as the last sliver of sun was disappearing. We feasted on conch fritters, snow crab and sashimi then took the boat home. Days do not get much better!