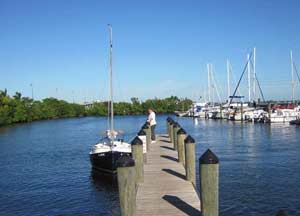 Today was a busy day, starting with launching our Sun Cat at Laishley Park to move it over to Joe's dock for the weekend. It was still a little chilly when we got there, and not quite enough wind to suit our schedule, but enough to make for a nice motorsail over to Punta Gorda Isles. Sonja came along to tend jib…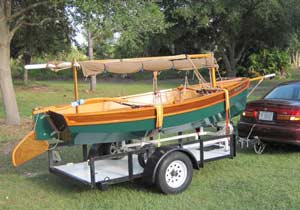 The Horizon Cat Class arrived around midday, and we put them right to work, with Charlie carrying groceries in and Isy wielding a (badly needed) broom. Let this be a lesson to those who arrive at our parties early! They scurried off soon enough to launch their boat. Darnit, I forgot to take a pic of their boat in the driveway!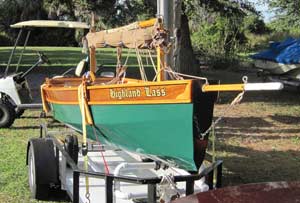 The first to arrive on the scene was Don N, who brought his Highland Lass along for our enjoyment. It took him a year to build her. Yes, he actually puts this thing in salt water and scratches it up! I saw the scratches myself, but tastefully avoided photographing them.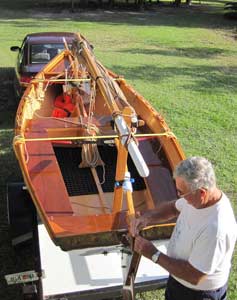 What a beauty! You can move the oarlock pegs and the jib leads are on rope toggles so they can be moved as well.
Boats like this one always set off an internal argument in my head, with some insane guy saying, "Build a boat, Tom!" and my inner jib trimmer coming back with: "There are plenty of them already built! I'd rather play with one of those!" Highland Lass is going to have that insane guy pumped up for a while.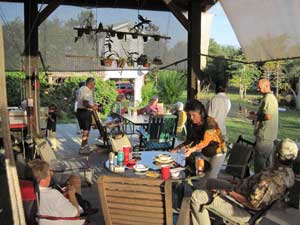 We had various snacks and refreshments until about 6, then moved some of the party over to my neighbor's restaurant for dinner. What a fun group of Sun Cat sailors! Really looking forward to sailing with them all tomorrow!