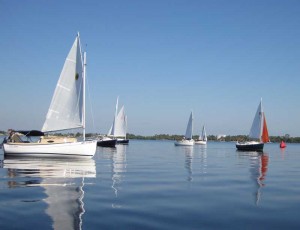 Time to start planning for the 4th annual Sun Cat Nationals! Let's hope for more wind than last year! The welcoming party will be held the evening of November 8, 2013 at the property of the Head Jib Trimmer In Charge and will include less wet dog play than usual, since Libby is on injured reserve. We will probably be treated to verbal and written race instructions from Tom Scott, whose paint job on Whimsy is now a few years old and ripe for scratching.
Two-time National Champion Scott has sold the Turbo Sun Cat but plans to return with a neat little catboat that followed him home one day. This means the infamous bumper trophy will be back and someone else will have a chance to win it!
As always, prior Sun Cat owners and other random catboats are invited to participate in the festivities and sailing, but only Sun Cats complying with the Class Rule will compete for the National Championship. The Class Rule, in case anyone missed it, says that you must sail a hull that is arguably a Sun Cat hull.
We look forward to seeing old friends and we hope to see some new competitors this year too! Please register as soon as possible so we can get a head count and plan the parties!