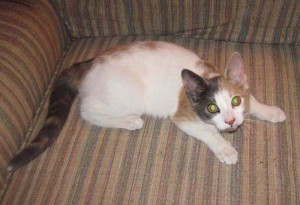 We will have at least 5 boats competing for the Sun Cat Class National Championship this year, including defending National Champion Scott W in Suitsus and previous National Champion and beloved Head Jib Trimmer In Charge, me, sailing Wily Conch. Don will be back with Frisky and new jibs, Catnip will return for some more bruising, and we are joined this year by new participants Bill and Mary on Stray Cat. We may also be joined by Dennis and Odd Duck, but not sure yet.
Unfortunately, Mike and the guys with the old pre-Com-Pac era Sun Cats will not be able to join us this year. We were hoping to have Tyler and Kiersten, but they had to cancel as well, leaving Paul alone in the Com-Pac 16 Class. We'll let him race with the Sun Cats.
We will have a Skipper's Meeting here at the HJTIC property on Friday evening starting around 4:30 or 5 and Tom Scott will probably provide details about where we are going to race, when we are going to start, the fact that NO ONE should hit Whimsy's NEW PAINT JOB for ANY REASON and other regatta-related stuff.
We look forward to seeing all our catboat friends and if she's in the mood, introducing you to newly appointed Sun Cat National Championship mascot cat, Kahlua!