Thanks to all for coming to the 2012 Sun Cat Nationals! We really enjoy seeing everyone and playing with the cat herd on the harbor, even if we have almost no wind! It was darn calm!
Congratulations to Scott W for successfully defending his title as Sun Cat National Champion and thanks to Butch and Sharon for donating the Championship Bumper as rotating championship trophy. It is brave indeed to leave that outboard undefended against a possible reappearance of Good Juju.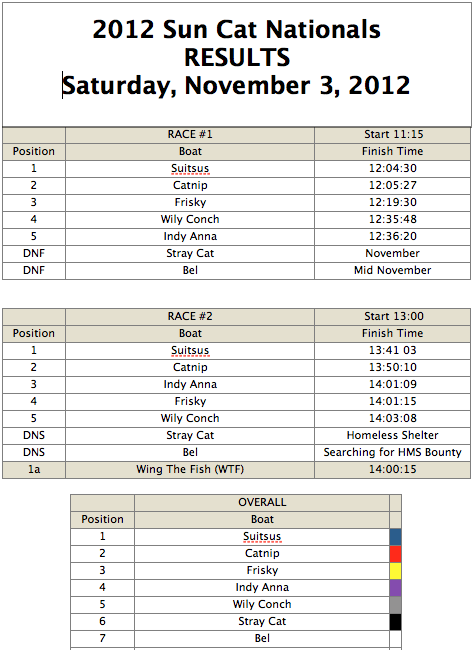 Special thanks to Dennis for equipping Catnip with Flying Scott sails, which made me laugh harder than anything else this year! Thanks also to Tom Scott for being Race Boss and having the patience to watch Sun Cats sail around very slowly!
More pictures and video to come soon, but for now the official race results. I should note that Wily Conch only defeated Indy Anna in race one because of an unfortunate but funny impact with the finish mark. Also, Suitsus took a victory lap in race two, completing it in about 20 minutes. Yes, he managed to lap us! I will have a list of excuses and other lies with the photos to come!