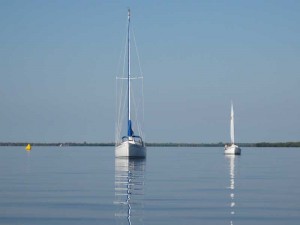 It was glassy calm as I motored out to the racing area, southwest of the current-swept marker "T" near the northeast shore of Charlotte Harbor. The rigging on Whimsy and sail on Catnip were reflecting nicely off the water, which was not exactly what we were hoping to see for the Sun Cat Nationals. It looked like a repeat of the nearly calm 2010 Nationals, in which only one race was slowly completed by parts of the fleet.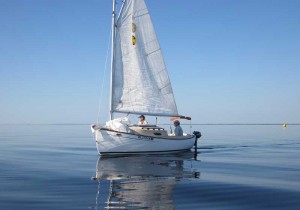 I motored past Catnip and noticed something different on the bow. I had heard a rumor the night before about a spinnaker, but it looked like Dennis had brought along a jib for the boat too! I hoped we would have enough wind to fill it.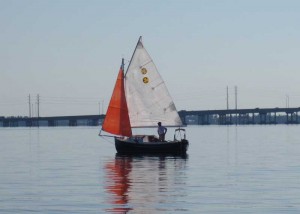 Don showed up in Frisky and promptly launched his lightweight orange drifter sail, but I do not think he had in mind literally drifting with this sail. I have seen more wake coming off a speeding chunk of driftwood. It was looking like we would have to start racing late, if at all.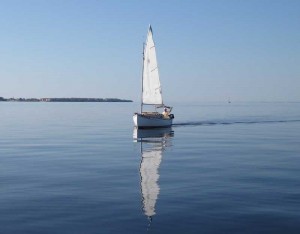 Larry and Cathy in Indy Anna were next on the scene, also arriving with a nice mirror image of the boat reflected on the harbor. At least the almost complete lack of wind made for some nice boat shots!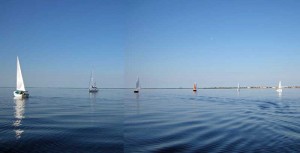 I was drifting with the sail down, occasionally firing up the engine to run back upstream a bit against the outgoing tide. With the engine off, I heard an unusual puttering sound in the distance and saw Randy approaching in old Sun Cat Number 8, the boat Mike borrowed and sailed last year. Randy says it is actually number 9, perhaps counting the Clark Mills prototype as hull 1 instead of zero? I'm not sure. I hope one year we have confusion about which old Sun Cat is which in the races, but for now the boat is alone in the class with its original Marconi rig.
I fired up the engine to get upstream of the start area, hoping to get the whole group in one shot, but they did not quite fit so I stitched together the fleet shot at right from two pictures.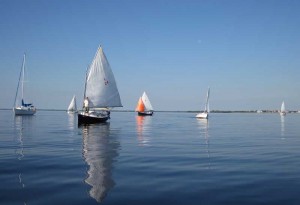 Scott had lingered at the ramp to help Randy launch old Number 8 but he appeared in Suitsus with his plus-sized mainsail of indeterminate origin. Anyone who knows which gaff-rigged boat might have previously flown sail "L 24" please let me know. A tiny breeze was stirring, and the rest of the fleet was using it to sail around with a little success. I kept the sail down while waiting for Sonja to show up with the Boston Whaler. Our plan was to tie it to Whimsy so that she could race with me aboard Wily Conch, then use it to collect the marks after the race.
Speaking of the marks, it would be wrong to fail to thank the Punta Gorda West Marine store for providing these marks through the Charlotte Harbor Community Sailing Center. Our little joke regatta is much funnier with real race marks and many real regattas enjoy the use of them as well.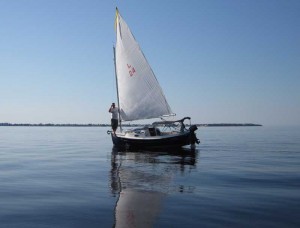 Scott was having too much fun sailing along on the bow of Suitsus. I think he was shifting his weight to steer and talking on the phone at the same time, but I'm not sure.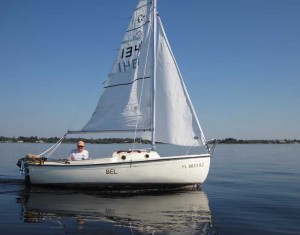 Paul showed up in his nice old Com Pac 16, named BEL after a part of her trailer license plate number. A funny way to name a boat, but he's right that it does make a nice name. This is one of the original "Mark I" model boats and has a fixed keel with no centerboard.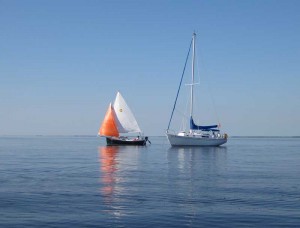 Frisky took a photo pass by the committee boat.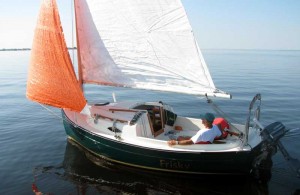 And Tom obligingly took a picture. Check out the arrays of sail control lines on both sides of the companionway!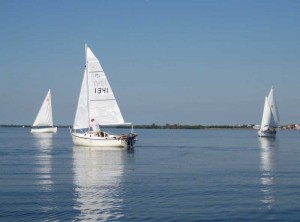 Variety is the spice of life! Here Paul is tidying up a bit on BEL as Randy sails by in old Number 8. Butch and Dennis are testing out the Flying Scott jib on Catnip. I love seeing all this at the Sun Cat Nationals!
Larry and I were sailing the only (mostly) unmodified Com-Pac Sun Cats and were at the bottom of the results list. He mentioned to me at the awards dinner that perhaps we should have a "stock" class race separately, but I do not want to do that for several reasons.
First and foremost, there was nothing funnier than Dennis scrambling around Butch's boat messing with Flying Scott gear this year. This regatta exists to amuse me. Mission accomplished!
Second, I actually want to learn how the various modifications perform against one another and against "stock" boats. The way to find out is to race against them. If the modifications do any good at all, which I expect most will, I expect to lose. My questions are: in what conditions, by how much, and at what cost in dollars and complexity of the boat?
Third, even mine is not really a stock boat. I have modified my rigging. I intend to make more changes. I have done nothing that should significantly affect performance as yet, but adding a boom vang and some shape to the rudder are among performance-enhancing modifications on my list. I do not want to address the question of when a "stock" boat is no longer a stock boat. If it is arguably a Sun Cat hull, that's enough. Any changes made are just different flavors of fun. More spice, please!
Getting back to the boat pictures that I know everyone comes here to see, Butch took a photo pass by Whimsy sporting Dennis' Flying Scott jib. Pretty funny stuff!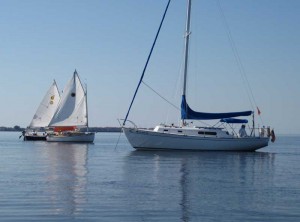 A few ripples started to appear on the surface and the boats were able to sail around a bit. Frisky and Indy Anna took a close pass by Whimsy.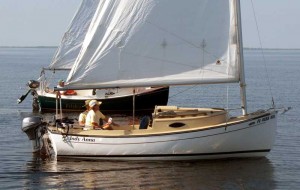 Once again, Tom did his dual duty as Race Boss and event photographer very well, getting a nice closeup of Indy Anna.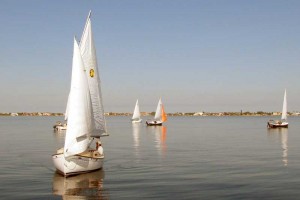 Stray Cat was running a little late at the boat ramp but called us on the radio and considering the complete lack of wind, the first race was delayed until they could motor over. During this time, Tom suggested that we run the first race as "motors optional" and have the Sun Cats charge around the (very short) race course in a pack under power. I thought this would be funny, thus consistent with the purpose of the regatta. I also thought it would be kind of interesting to observe the performance of the different engines, especially Indy Anna's big one.
Scott did not like the idea of racing under power and Randy understandably has an aversion to firing up the old Seagull on Number 8 unless absolutely necessary. In the end, no one seemed to want to be the first to fire up an engine so we started the race very slowly under sail.
The picture at right, taken from Whimsy, shows part of the variety of boats in the competition. In the foreground is Catnip with her new jib, almost obscuring "stock" boat Indy Anna behind. To the right are Number 8 and Frisky with her drifter and Stray Cat, another stock boat, is on the far right.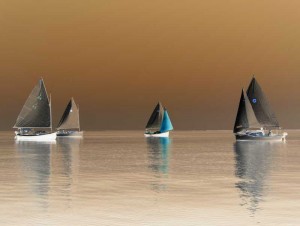 Messing around with this picture, I accidentally found the keyboard command to "invert" a picture in Photoshop. I usually try to make my pictures look as much like life as possible, but found this effect interesting. I figured "invert" meant flip it over, but apparently it means something else in the photo world.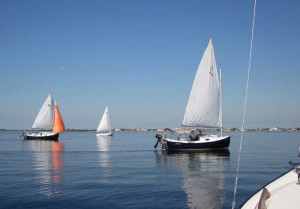 The wind during the starting sequence was light and highly variable in direction. We were starting into the current and since Randy did not want to fire up his engine, he had wandered pretty far downstream. Not all that far in distance, but a long way for a Sun Cat to sail into the current in light air.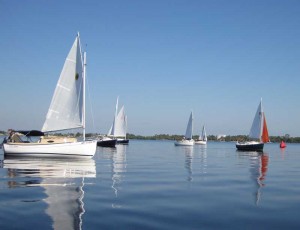 Waiting for some wind or someone else to start an engine, we all positioned ourselves as best we could to be near the starting line. The forecast called for NE winds at ten knots, but the wind we had was more from the SW at times and never above about 5 knots. Even with the wind blowing is toward the starting line, the opposing current made the line a hard goal to reach.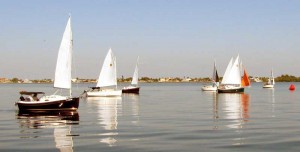 Tom took this picture capturing almost the entire fleet as we struggled toward the starting line. This may have been taken a minute or two after the starting horn actually sounded. It took a while to get to the line. From left to right are Wily Conch, Indy Anna, Stray Cat, Catnip sprouting a spinnaker, Suitsus behind Frisky, and BEL in the distance. Number 8 was not close enough to make it into the frame.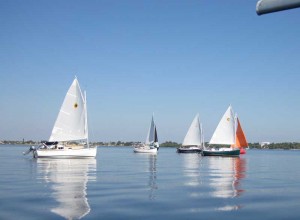 Taken moments later from our boat, this one shows Frisky about to make it across the line in front of the fleet. I believe Tom yelled something about 6 minutes from the horn, and it was quite a while before the last of the fleet struggled across the starting line.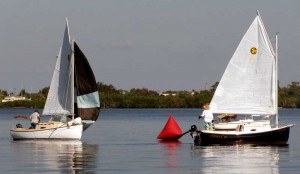 This shot of Stray Cat starting shows the crew of Catnip on the verge of success with the spinnaker.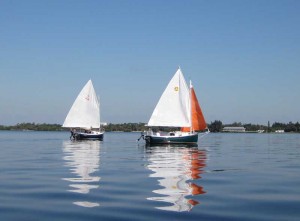 I put the camera away for a bit while trying to cross the starting line. By the time I made it out onto the course, Frisky was still holding her early lead but Suitsus was challenging from the outside.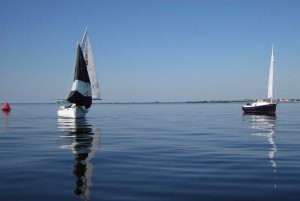 Looking back, Catnip was having some trouble getting that spinnaker to fill and Stray Cat was meandering along at the edge of the fleet.

Tom got this nice panoramic shot of almost the entire fleet making our way downwind on what should have been an upwind leg to marker "T" but wound up being a broad reach. Old Number 8 did not quite make it into the shot, but from left to right are BEL beyond Stray Cat, Indy Anna, Catnip with filled spinnaker, Frisky with drifter, Wily Conch and Suitsus.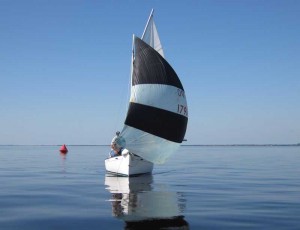 That droopy Flying Scott spinnaker on Catnip did not stand a chance once Dennis started messing with it, and it was soon filled and flying. I could hear Dennis' rapid stream of commands to Butch as he sought to optimize the sail. It was pretty funny.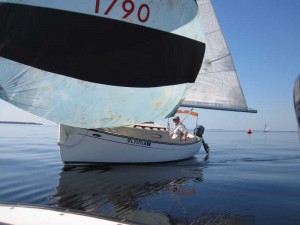 Also effective, as they slid right up on top of us and stole our wind. They were probably helped a bit by the fact that I was steering while looking backwards, snapping pictures, and laughing so hard I cried. It was a bit difficult to care which way I was going or how fast.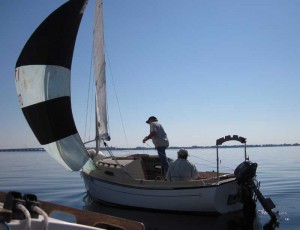 And away they went. Watching Butch watch Dennis scrambling around on the front half of Catnip was easily the funniest thing all day, possibly all year.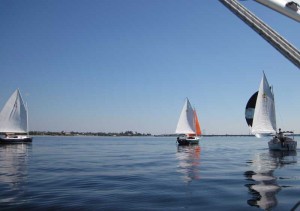 Approaching marker "T" it looked like the headsail-equipped boats would easily round the mark first. Frisky held the lead, but Catnip was closing fast and Suitsus was making a move from the outside, at least when she was moving.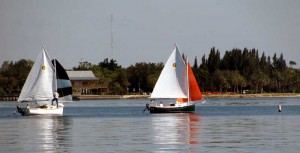 Tom took this picture as Frisky approached to round the mark. She was in a sliver of wind, and it was just enough to carry her around Marker "T" and off toward the reach mark.
First across the line and first around the mark, Frisky appeared ready to win race one with ease.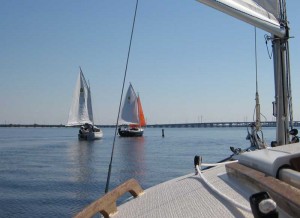 From behind, it looked like this. As the wind died out, it was also shifting in direction. Aboard Catnip, Dennis doused the spinnaker and was scrambling around getting ready to set the jib.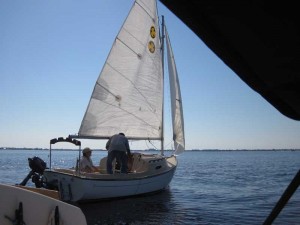 They got Catnip converted into sloop mode as the wind swung around to make the short remaining distance to the mark upwind for us both. They had lost almost all headway tacking in front of us and there was nearly a repeat of the unfortunate incident in 2011 in which Good Juju rammed Catnip's outboard engine.
Catnip was not making the mark without another tack, so I went out a long way past the mark hoping that my tack back would carry me above it despite the current. I managed to time one of the rivers of wind almost right, riding it out away from the mark then back in toward the mark. If it had held up for about another 15 seconds, I would have made it around. Of course, another way to look at it would be if I had been driving the boat and trimming my sail instead of laughing and taking pictures, I might not have needed those 15 seconds of extra wind.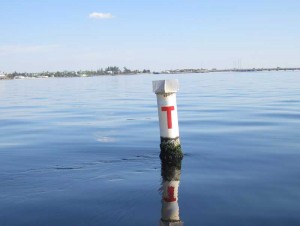 Either way, Marker "T" proved to be a difficult goal indeed for all of the Sun Cats except Frisky. I think I spent about half an hour trying to get around it. A few boat-lengths upstream can be a long distance in a becalmed Sun Cat.
While most of us were clawing our way toward Marker T, Frisky sailed off into the doldrums somewhere on the way to the reach mark. Her seemingly insurmountable lead started slipping away as other boats made it around the mark one by one and started slowly sailing off toward the reach mark.
Meanwhile, back aboard Whimsy, Tom could see that none of us had any chance of getting to the reach mark before noon, which would be 45 minutes after the start of the race. We had planned to do a series of three races, two laps each. If we were to get done before sundown, a dramatic course reduction was in order.
Tom picked up his anchor and motored Whimsy over near the reach mark, designating it the new finish mark. This was pretty funny, considering that each course leg was already ridiculously short, but I had to agree with the decision. At the time, the reach mark seemed a pretty distant goal from my perspective.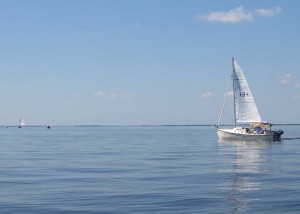 Paul had found it difficult to maintain steerageway in BEL and the current carried him off toward the shore. Around this time, he decided to exercise the "motors optional" part of this race, struck the jib, and headed over toward the finish line.
In the background, Suitsus can be seen working her way up what would have been the finish leg of the course if we had sailed the full course.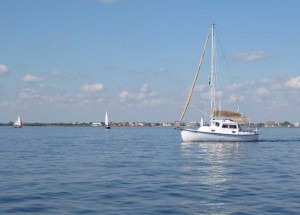 Frisky had also finished far enough out front to try to sail the rest of the course while the slowpokes finished, and both boats wound up in the background of this picture of a brief appearance by former Sun Catter Dick K. in his new Com-Pac 23 Pilothouse.
We were behind Indy Anna heading toward the new finish line. Suitsus and Catnip caught a little breeze and managed to make it over the line before Frisky could find her way out of the doldrums and finish. I was looking at a fifth place finish, but noticed Indy Anna getting a bit too far down current as we made our way to the line. I could barely hold a straight course across the current, which was almost equal to our boat speed. Indy Anna took a bit faster track, but wound up in trouble.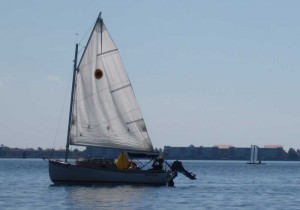 I could not resist snapping a picture of what followed, despite some risk that my inattention to driving the boat would put me in the same spot. Indy Anna hit the mark in slow motion and because the mark was pretty firmly pinned in place by the current, the boat bounced off the inflatable mark. I thought Tom S. was going to die laughing when he told the story later.
Before Indy Anna could clear herself and get across the line, the Wily Conch slipped over for a fourth place finish. Conchs are wily that way.
In the background of the picture was the first appearance of the prototype Wingsail Sunfish by Solid Wing Sails being tested by owner/inventor Chuck T.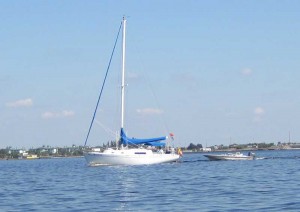 Stray Cat called on the radio to say she had to go back to the litter box and Whimsy told the rest of us to reassemble back at the original starting area for a second race. That's optimism! I took a picture as he motored by with the 15′ Whaler in tow, mainly so that I can use this picture for future amusement in the many "what is the perfect dinghy for a cruising boat" threads on the internet.
It is sure to raise objections from old salts, who will point out that a boat capable of burning all of the 18 gallons of gas it carries in a single day is not exactly useful in places far from gas stations, not to mention the drag and potential danger of towing something so heavy.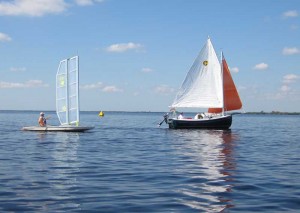 On the way back to the starting line, Chuck sailed the Sunfish up to Frisky and he and Don were chatting about the dynamics of the slot in the wing. This kind of thing is definitely within the overall purpose of the Sun Cat Nationals: amusing me with sailboats. Both of them, in their different ways, have created new sails for existing boats, and they did not just wing it, so to speak. They actually put a lot of thought and effort into doing something new with boats, just for fun. The Cowmaran is another example of this kind of thing.
In forum discussions, some have asked why Chuck would bother putting something as cool as a wing on something as boring as a Sunfish. The simple answer: so you can afford it! It's not a bad answer. When Sun Cat designer Clark Mills created his most famous design, the Optimist Pram, his idea was not to create the greatest beginning class racer of all time. He was trying to create something affordable and easy to build, just like Chuck is doing today. Of course, a race-ready Opti is no longer cheap, but that's just the way racing tends to go. I hope to one day mock this tendency by buying one of the classic Sun Cats, cutting off anything that does not make it go faster, and adding the best foils and sails I can figure out. It's still within the Sun Cat Class Rule! Yes, a hydrofoiling Sun Cat is allowed.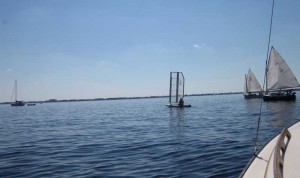 Chuck decided to join our second race to test out his wingsail prototype.We were supposed to have had an incoming tide by the start of the second race, but I am going to have to do a reality check on the local tide predictions. I found the same current as before when I finally made it to Marker "T" this time.
Winds were just as fluky as before, and boats that could make their way into a patch of wind moved while the rest mostly bobbed around. Scott says that these are his normal sailing conditions, which probably accounts for his ability to make it around the course first again. The big mainsail probably helps too!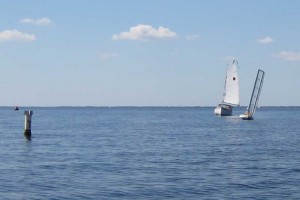 Most of the fleet rounded Marker T ahead of us and I took this picture looking back at the wingsail Sunfish and Indy Anna when I was pretty sure I had the mark made.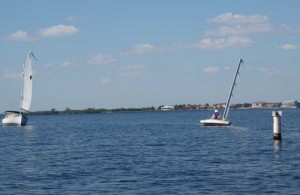 Just enough wind came along to allow us to clear the mark and head out toward the reach mark. It was around this time that the poor Sunfish was battered by the Sun Cat fleet, starting with a misjudged tack by me. My plan was to tack behind Chuck, but just as I turned to do it caught a tiny puff that also stalled his wing. It looked for a moment like my anchor might go right through that wing, but Chuck was able to fend off my attack with a little push. I figured a profuse apology would have to be the penalty, since there was no chance of executing penalty turns and completing the course before dark. I think Indy Anna got into a little bumper boats action at that mark too, but I did not see what happened.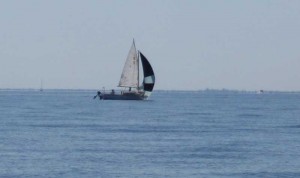 Meanwhile, Catnip had already gone around the reach mark and was on a spinnaker run toward the downwind mark, chasing Suitsus. This was more than 30 minutes into a one lap race that should have taken about 15 minutes at most if there had been any wind.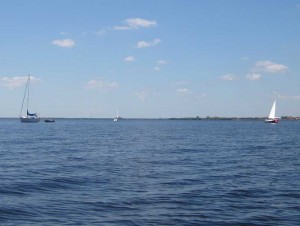 We were slowly tacking our way out to the reach mark, the wind having no regard for the orientation of the course, when I heard a horn signal off to starboard. I looked over to see Suitsus just over the finish line, with Catnip sailing up from the downwind mark in the distance.
It was going to be a long race.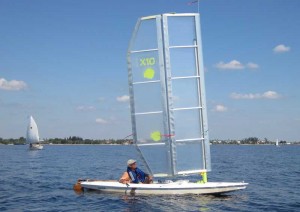 Next thing I knew, I heard the splashing of the Sunfish across the surface ripples and stray powerboat wakes and Chuck was coming up fast on my quarter.
He got abeam but suddenly lost his wind and could not quite go by on that attempt, but did make it around our other side on the next tack.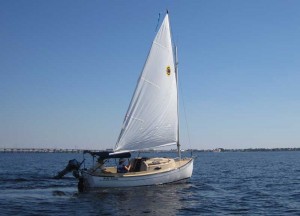 Indy Anna went by us as we approached the reach mark. I started thinking that perhaps I should have at least taken the time to adjust the peak halyard for better sail shape or something. I also think that sailing with both Larry and Cathy on the lee side was probably faster than sailing on opposite sides of the cockpit as Sonja and I were doing. Changing sides on tacks seems like a lot of work for a Sun Cat race!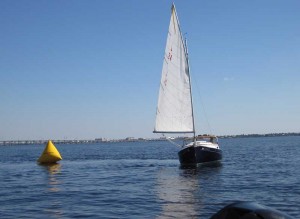 As we rounded the reach mark, Suitsus was on our stern, working on his second lap of the race. By this time, we were probably around 50 minutes into what should have been a 15 minute one lap race.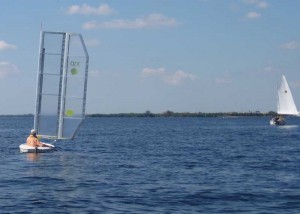 "Downwing" running is not something you see the high tech America's Cup boats do, but the wingsail Sunfish was doing it pretty well in front of us. The course from the reach mark to the downwind mark was more or less directly downwind most of the time, and catboats do that pretty well.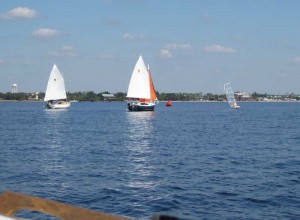 I'm not sure where Frisky was during all of this, but Indy Anna managed to slip by her and finish 6 seconds ahead. Wing The Fish (WTF) edged them both out by about a minute. Yes, it took a minute to cover a few boat lengths in these conditions. We made it over there two minutes later, taking last place. Other than wondering how I might have done a bit better, losing my little joke regatta does not bother me a bit. I won by having a blast watching everyone else sailing with us, so thanks to all participants!
I think the main lesson from all of this is that I should have water balloons and some kind of funnelator rig available next time, so that I can shell Scott when he laps me.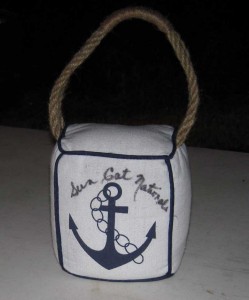 Just kidding! We're proud to sail with 2011 AND 2012 Sun Cat National Champion Scott and Suitsus! We decorated the door bumper that Butch donated with Sun Cat Nationals on the front side.
On the back, I signed a bit too large and added the initials of my title of Head Jib Trimmer In Charge. Where's the resize button on this Sharpie?
Scott was a lot more tasteful in recording his victories. Congratulations to the 2012 Sun Cat Class National Champion!