Between races two and three the wind died down a bit more, and while we still had a lot more wind than we saw for the 2010 Nationals, it was no time for reefed sails. Scott shook the reef out on Suitsus and showed us his full 180 sq ft sail for the first time.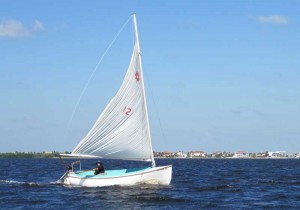 On board Sun Cat Number 8, Mike had set the sail reefed back at the boat ramp. Being singlehanded and having a few equipment issues in the borrowed boat, he decided not to attempt to shake out his reef before the start of race three, so he was racing with a pretty serious handicap. Two handicaps, if you count the age and condition of the sail. I think he said there was some damage to the foot of the sail that was protected by keeping it reefed.
We did not see too much of old Number 8 during the race.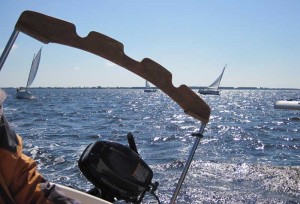 Though the wind was down, there were still a few gusts around. Charlie J did a great job on the tiller of Wily Conch but this picture should not be taken as a guide on Sun Cat sailing. Chances are, if your Sun Cat is heeling this much, you are doing something wrong.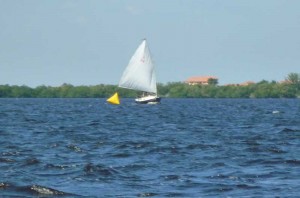 Scott got off to a good start and was so far ahead by the time he got to the windward mark that no other boats appeared in this picture, even before I cropped it. It looked like he was racing all by himself.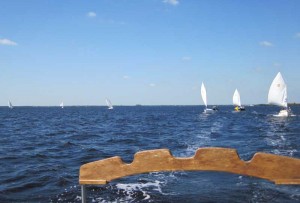 Despite occasionally heeling like a sloop sailor, Charlie J got us around the windward mark in second position. In this picture, Catnip is closest behind us, followed by the Sunday Cat. Frisky is just coming around the mark, this time with guest helmsman Steve J driving. In the distance, Good Juju and Sea Bird are approaching, with Odd Duck between them.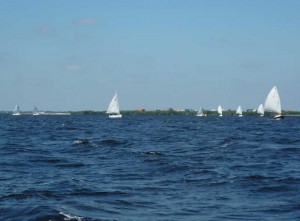 This picture was taken at about the same moment by Sonja on board the mark set boat. She was quite a ways away, so foreshortening in the picture makes it appear that Scott is not all that far ahead of the rest of us. He is quite a ways ahead, the rest of us are in a pretty tight pack. I'm not sure what Number 8 is doing there. Barely visible in the left part of the photo are Good Juju just passing Odd Duck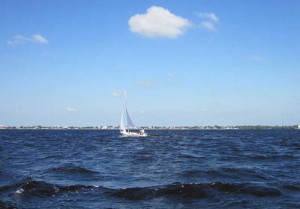 As we were heading down to the reach mark, I noticed this random daysailer crossing the harbor next to our course. I had been having so much fun with my fellow catboaters that I had not really noticed that we had the entire harbor to ourselves. This is inexplicable. It was a perfect Saturday to be out in a sailboat or a powerboat, yet we had seen neither. It was as if we had rented the entire harbor for our little event. Later on, we did see the small fleet of Precision 15's from Isles Yacht Club and a few powerboats went by in the channel, but almost no one else was out enjoying the perfect sailing conditions. Oh well!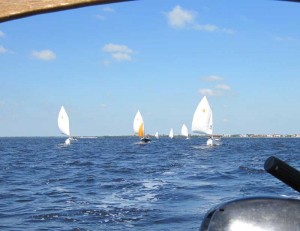 Back on the race course, we were holding off the other Sun Cats on the leg out to the reach mark. The wind was down enough that Don's home made orange jib appeared on Frisky for the first time this day. He is trying to pass between the Sunday Cat and Catnip.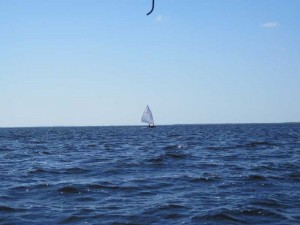 As we were rounding the reach mark, I grabbed my camera to catch this image of Suitsus already well on the way to the downwind mark. He was long gone, no way to catch him with his big sail. This is the kind of information I hoped to learn with the very loose class racing rule that says only that you must sail a boat that is arguably a Sun Cat hull. I think one of the old Sun Cats can be turned into a much faster boat, and this is how we will find out!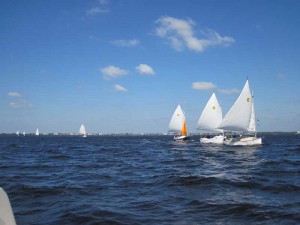 After we got around, I turned back toward the pack approaching the reach mark. They are closer to one another and maybe a bit closer to us than they were at the windward mark. In the distance, Indy Anna and Odd Duck are fighting for next-to-last position and Number 8 has not quite made it around the windward mark.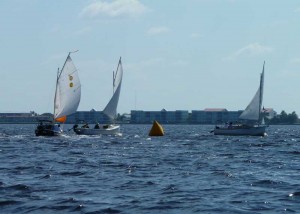 At about the same moment, Isy took this picture from Good Juju showing Catnip around the mark with the Sunday Cat just rounding and Frisky coming right behind. If you look closely, Don is being his own jib trimmer for this maneuver as Steve J is driving. I can't wait to see what kind of sail he puts on that long bow sprit.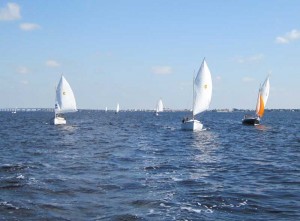 We held them off for the second reaching leg and this was the scene looking back up the course as CJ and I prepared to round the downwind mark and head upwind. Or maybe I should say, as we approached the downwind mark…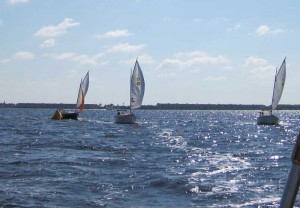 We got to the mark and Charlie J turned upwind. At first, I was still having fun with the camera, taking this shot of the pack of three Sun Cats turning upwind behind us. Charlie had a puzzled look on his face and was looking up at the sail. I looked around and realized we were really not pointing very well, even by Sun Cat standards. We both focused our attention on the sail, but could not see anything wrong. Something was wrong. The other boats were starting to outpoint us, and not just by a little bit.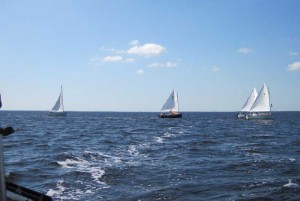 Operating on the theory that we had to change something, we tacked. This did not help. In the background, the other three are trimmed up and pointing upwind. We were still just not sailing well upwind at all, and the more CJ and I looked at the sail, the less sense it made. Then I looked down at the cockpit sole and happened to notice all the centerboard line piled up around our feet. Ooops! I quickly dropped the board and apologetically explained to Charlie that it should do a bit better now. Catnip managed to overtake us before I realized what was going on, but we still took third in the race. Once again I think it is fair to guess that Charlie would have done better if unencumbered by my assistance.
I'm not sure why Number 8 is in this picture. I think perhaps he got lost.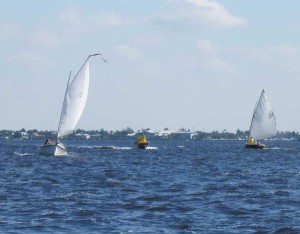 The efficient race committee and mark set crew were cleaning up the marks as the last boats came around. Running a regatta sure is easy! I mostly just rode around in my boat taking pictures the whole time!
(I'm probably going to pay for that comment, but what the heck, it amuses me and that is the whole purpose of the Sun Cat Nationals.)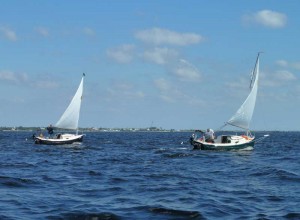 Isy got this great shot of Wily Conch and Frisky sailing toward home after the race. I have lots of pictures taken from our boat, and one of the things I like most about the Sun Cat Nationals is getting a bunch of pictures taken of our boat!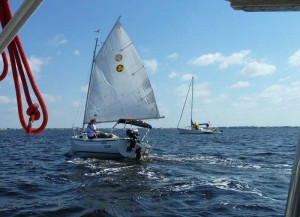 Odd Duck's jib trimmer demonstrates the hiking backrest potential of the stainless railing in this picture taken through the boom gallows of Good Juju. In the background, the mark set boat has just delivered another mark to Whimsy.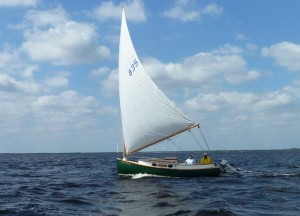 Catboat Willy seems to have waited until racing was over to fly his full sail and tilt his outboard engine out of the water on Sea Bird. That's exactly the kind of behavior that makes him welcome at the Sun Cat Nationals!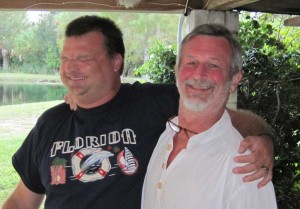 We put the boats away and gathered back at our place for the awards dinner. Everyone wanted to congratulate our new Sun Cat National Champion, Scott, and he mostly appreciated it. He got a huge congratulatory kiss from Charlie M. The picture captures his reaction pretty well!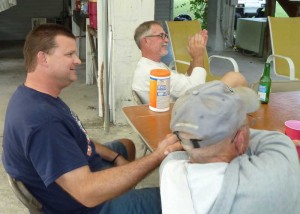 Most of us chose the more traditional handshakes and applause, like Charlie J in the foreground and Mike J in the background.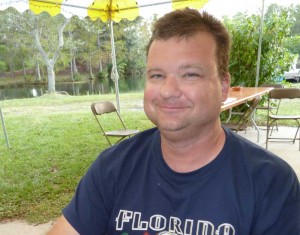 It was kind of hard to see in the earlier sailing pictures, but this closeup has pretty much the exact same look that Scott gets on his face when he sails above you and steals you wind. Sort of a cat and canary thing going on here.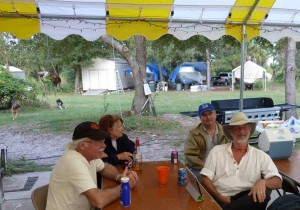 This is not really the best picture of any of the people involved, but it cracks me up because Dennis appears to be drinking skim milk, Tom has his grape soda, and in the background, Luke the Cowdog is leaning hard into a turn in pursuit of Libby. Watching those two chase each other is always funny.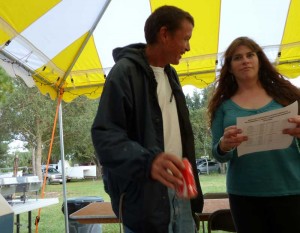 I do not remember what I said when joking around with Isy as she was reading one of the results printouts that Race Committee Chairman Tom Scott brought.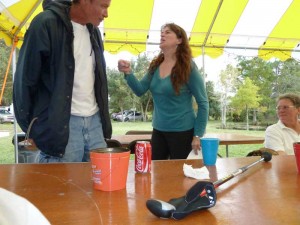 Whatever I said, saying it with a stick within her reach was probably not a great idea!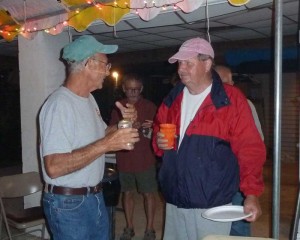 There was much merriment and sailor talk. Paul had a rough ride the day before in his Com-Pac 25 and did not make it out to watch the races, but at least was able to join us for dinner. They're probably talking about jibs or something.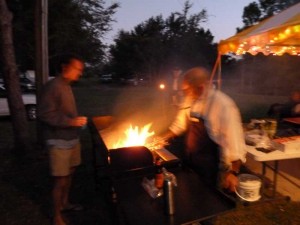 There might have been a bit too much merriment, as some of the pictures started to come out fuzzy. Here guest chef Scott S. has quite a flare up going on the party grill, but he turned out some good steaks!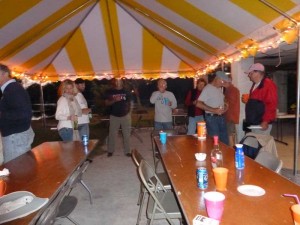 It was not just the fire messing with the autofocus on the camera in the shot above. This one is not much better, but pretty amusing all the same. Primary purpose achieved!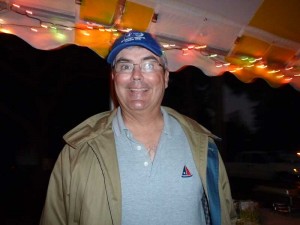 It may be hard to believe looking at the picture, but this might have been the only completely sober person present!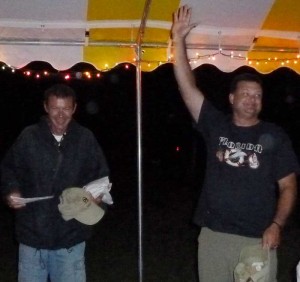 And the Sun Cat Class officially has a new National Champion! Com-Pac Yachts generously provided us with hats and shirts as prizes and here I am officially awarding Scott his prize. He has that same look again!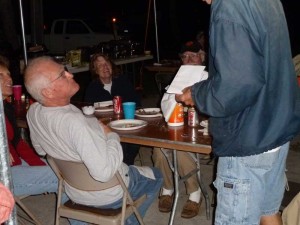 Com-Pac Yachts sent down six prizes, but as I worked my way down the final standings of the Sun Cat fleet it hardly made sense to give one of the shirts back to Tyler Hutchins. He brought them to give to everyone else! That meant that seventh place boat Indy Anna won a prize. When I tried to award it, Larry assured me that there must be some mistake, and that his performance could not possibly have earned a prize. I think I ended up saying, "Oh just have a shirt anyway!"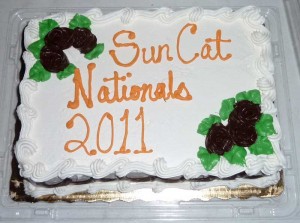 After the awards presentation, we all enjoyed some of the 2011 Sun Cat Nationals cake that Butch brought. What a great idea!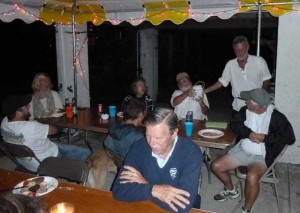 Charlie M. gave Butch a soft bumper to hang on his engine in future races, just in case he happens to stop in front of a speeding Horizon Cat again. I know, they're called fenders, but this one is a bumper.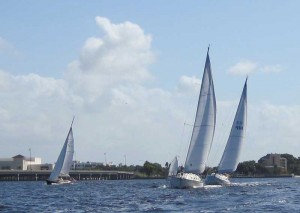 The following day, Wily Conch was the only Sun Cat to participate in the harbor cruising portion of the Sun Cat Nationals. I might have to start feeding them after this part of the event to get more to stick around! The Horizon Cat class came out to play, along with our committee boat Whimsy and his neighbor Tim in his Tartan 3100. Sailboat magnetism attracted the Morris 29 over to our little group. It was another great day to be out on Charlotte Harbor!
That's it for the 2011 Sun Cat Nationals. Next update will be whenever we get around to having another Sun Cat Regionals, or when I set the date for the 2012 Sun Cat Nationals.