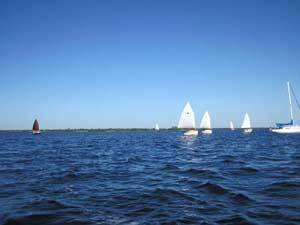 The 2010 Sun Cat Nationals achieved the primary purpose of entertaining me, and then some! We set a short course Saturday, which turned out to be a long course as the wind died. We only got in one race, and in a particularly embarrassing turn of events, I won my own joke regatta and am now the Sun Cat National Champion. Gawd, how tacky.
Anyway, further racing was called off due to lack of wind, but we had a nice dinner with all the Sun Cat sailors and supporting characters like Rich Hutchins from Com-Pac Yachts and Ed Benson from Gulf Island Sails, who came by and gave us some Com-Pac gear for prizes.
Several did not participate on Sunday due to travel plans, health problems, forecast lack of wind and general fatigue but we actually had a nice morning breeze and sailed around until it died, then had lunch at Harpoon Harry's and called it a day.
A good time was had by all, and those were the results I wanted. I'll post the actual race results later, as if anyone cares!
Special thanks to Race Committee Chairman and chief videographer Tom Scott for all his help and for the color commentary on Sun Cat Nationals videos he took. The seemingly endless start of the race is hilarious!